BAILEYS CHOCOLATE MINT PUDDING PARFAITS
These Baileys Chocolate Mint Pudding Parfaits combine the classic flavors of chocolate, mint, and Baileys Irish Cream in one delicious no-bake dessert. These pudding parfaits are perfect for St. Patrick's Day, Christmas, or anytime you're craving that chocolate mint combo. Made with layers of Baileys-infused chocolate pudding, Mint Oreos, and Creme de Menthe whipped cream, they're as easy to make as they are to enjoy. If you love Baileys desserts as much as we do, these yummy parfaits are a must!
So! Do you have any fun plans for St. Patrick's Day? We don't….and I REALLY feel like we should. Because not only does it fall on a Saturday this year, but the weather forecast says 50 degrees and sunny. Which, at this time of year, sounds like summer!
It's been a long time since we actually celebrated St. Patrick's Day, and even though Jorden and his friends planned Kegs & Eggs….at our house….on Saturday, they've since come to their senses and cancelled it. Because the reality is we all have kids! Too many kids. And if there's one thing that's true, it's that St. Patrick's Day and kids do not go together.
So there's a very good chance that the extent of our celebration will be making a leprechaun trap, enjoying some Baked Reuben Sandwiches, and…if the girls are lucky? Maybe even having Lucky Charms Milkshakes for dessert. In other words, we'll make it so that St. Patrick's Day and kids DO go together!
Of course, there's no reason our day has to be ALL about kids. (I can guarantee that once they're asleep our night will be all about the Irish Mules…)
And I can also 100% guarantee that March 17th will NOT pass us by without some Baileys Desserts. It's no secret around here that we love us some Baileys. And we especially love us some Baileys desserts. Whether it's Baileys Chocolate Mousse or Baileys Chocolate Sheet Cake or this dangerously easy Baileys Chocolate Chip Dip, we love them all. (And this year I'm adding these Baileys Brownies to my must try list!)
And, of course, we love them just a little more on St. Patrick's Day!
And when it comes to these Baileys Chocolate Mint Pudding Parfaits? Well, there's something about the Baileys chocolate mint combo that I just can't get enough of. And I LOVE how easy they are to make!
WHAT IS A PARFAIT?
A parfait is a dessert consisting of layers. It can be made with ice cream, yogurt, fruit, pudding, whipped cream, or a variety of other ingredients. The name "parfait" comes from the French word, which means perfect.
HOW DO YOU MAKE A PARFAIT?
Making a parfait couldn't be easier! Here's how:
Choose your parfait dish. A tall dish is traditionally used, but you can decide what works best for you based on what you have available.
Choose your ingredients and the order you'd like to layer them. I like to alternate colors and textures whenever possible.
Spoon or pipe layers into your parfait dish.
Top with whipped cream, cookie crumbs, fruit, or nuts.
Enjoy!
These Baileys Chocolate Mint Pudding Parfaits are the perfect dessert for all your St. Patrick's Day festivities, and they can easily be made kid-friendly. Simply replace the Baileys Irish Cream with milk and substitute mint extra and green food coloring for the Creme de Menthe…and you're good to go!
CAN I MAKE PARFAITS AHEAD OF TIME?
Yes! These Baileys Chocolate Mint Pudding Parfaits are a great dessert to make in advance. Simply prepare according to instructions, cover with plastic wrap, and refrigerate until ready to serve. *For best results, add the cookie crumb topping just before serving.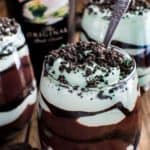 Baileys Chocolate Mint Pudding Parfaits
Ingredients
1

box

Instant Chocolate Pudding Mix

1

cup

Baileys Irish Cream

1

cup

milk

3

cups

whipped topping

(*Cool Whip)

6

Tbsp.

Creme de Menthe liqueur

12

Mint Oreos,

crushed

3

Tbsp.

hot fudge topping
Instructions
In a small mixing bowl, combine chocolate pudding mix, Baileys Irish Cream, and milk. Whisk 2 minutes; let stand 5 minutes to set.

In a separate mixing bowl, combine whipped topping and Creme de Menthe.

Drizzle hot fudge inside parfait dishes.

Spoon pudding mixture and whipped topping mixture into separate piping bags or Ziplock bags; cut off the tip of each bag.

Pipe into parfait dishes, alternating between pudding mixture, whipped topping mixture, and crushed Oreos.
Nutrition Facts
Baileys Chocolate Mint Pudding Parfaits
Amount Per Serving
Calories

463
Calories from Fat 126
Total Carbohydrates

62g
21%
* Percent Daily Values are based on a 2000 calorie diet.

Sav